When you think of Spain, you think of temperament and passion. In this restaurant not only the chef has passion, but also every single one of the different dishes. At the Asador Etxebarri, every dish, from the starter to the various courses to the dessert, is prepared by Victor Arguinzoniz himself over the fire with great attention to detail and the art of grilling.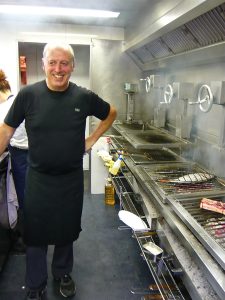 Nature and walking, that's what Arginzoniz needs for thinking and for his balance. Even the fact that his traditional grill restaurant Etxebarri in the village of Axpe with 1400 souls suddenly became a hotspot for the international foodie high society and even ranks third on the list of the 50 best restaurants, does not affect Bittor's habits in the slightest.
Monday is a mountain day, and the rest of the time this man is barbecuing. He wants to prepare the food he works with in the best possible way. Not only did his passion lead him to buy an old farm with his father and uncle, which they renovated for the restaurant, but it also laid the foundation for his career as one of the top chefs in the world.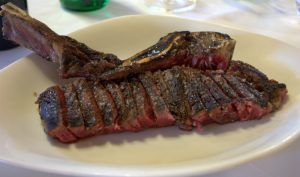 Even gourmets and experienced critics are surprised and equally delighted by this art of grilling, which includes a special examination of the different types of wood and grilling possibilities. If a dish is not completely prepared over the fire, then at least some of the ingredients themselves are. So it comes as no surprise that the Asador Etxebarri has been awarded a Michelin star.
The ambiance at Asador Etxebarri is rustic yet modern, in keeping with the architecture and setting of the Basque Country. The dishes on their menu are also traditionally Spanish and of course the grilled meat dishes are particularly characteristic.
The kitchen seems down-to-earth and honest, something you rarely find in upscale gastronomy. And that is what makes Asador Etxebarri so interesting and unique, as is the location of the restaurant itself. Those unfamiliar with the area will probably have to rely on GPS to find the restaurant in a former farmhouse, although you might be able to already smell the barbecue aroma of the Asador Etxebarri from far away, which will lead you the way.