Greco is a typical southern Italian, but as the name suggests, it probably has Greek roots. Lovers of these southern Italian wines appreciate the intense, unmistakable scent of yellow stone fruits such as yellow plums, apricots and peaches. On the palate, the fruit aromas pair with fine acidity, which ensures freshness, and a mineral note from the tuff rock on which the vines stand. A refreshing meal accompaniment for summer evenings with fish, seafood and salads. The recommended serving temperature is 10 – 12 °C.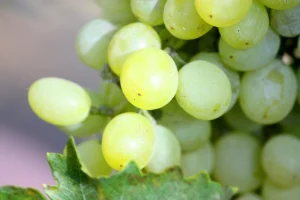 The Greek on tuff rock. This is how this DOCG white wine from Campania is often called. Whether the grapes actually came to the country with the Greeks has not really been proven, there are also assumptions that Greco could descend from the ancient Roman main variety Aminea. The DOCG must be made from at least 85% grapes of the Greco or Greco di Tufo variety and a maximum of 15% of the ancient Coda di Volpe Bianca grape.
The authorized wine-growing area includes the municipalities of Altavilla Irpina, Chianche, Montefusco, Petruro Irpino, Prata di Principato Ultra, Santa Paolina, Torrioni and the eponymous municipality of Tufo, all in the province of Avellino.
The Greco di Tufo grape variety thrives in the sunny south of Italy. The wine-growing region of Campania, which has existed since ancient times, is located on Italy's Amalfi Coast. The south-west of the Mediterranean country is best known for its capital Naples, the islands of Capri, the volcano Vesuvius and the archaeological sights in Pompeii. Numerous, solid wine and rosé wines also come from this area.
Greco di Tufo mainly produces dry white wines and also some sparkling wines. The best wines from this grape variety have been awarded the DOCG title and reflect the sunny climate of southern Italy.
Since its foundation in 1986, the Feudi di San Gegorio winery has developed into the largest and most important winery in Campania. Today, however, the Feudi Group is not only active in southern Italy, but also owns 300 hectares of vineyards in over 800 small locations throughout Italy. The cool highlands of Irpinia, on which the grapes of the mostly autochthonous vines of Feudi di San Gegorio grow, offer the best conditions for exclusive wines. Fine wines such as Aglianico, Fiano and Greco reflect the biodiversity of their respective locations. Feudi di San Gregorio, managed by Pierpaolo Sirch, has long been one of the most important wineries in Italy.