Noma is a restaurant in the Danish capital Copenhagen that has been awarded three Michelin stars. It is currently ranking as the World's Best Restaurant 2021.
The name Noma is a syllabic word from the Danish words "nordisk" (Nordic) and "mad" (food).
The kitchen under the chef René Redzepi cultivates a creative interpretation of Nordic dishes, which preferably consist of local products, especially fish, local vegetables and various, also unusual, local herbs and ingredients.
Luxury has always been defined differently at the Copenhagen restaurant Noma. Redzepi's menu is not dominated by the most expensive foods in the world. He mainly uses ingredients that are native to Scandinavia and are in season. Noma has been voted the best restaurant in the world five times (2010, 2011, 2012, 2014, 2021).
For a long time, gourmets around the world were wondering why Noma, as one of the world's best and most influential restaurants, had "only" received two stars from the Michelin Guide. Even despite the fact that since it was founded in 2003 it has been number one in the "World's 50 Best Restaurants" four times and chef René Redzepi has mixed up and permanently changed the entire system of star cuisine based on French haute cuisine with his New Nordic Cuisine. Now the Noma finally received its well-deserved third star.
Meanwhile, away from the hustle and bustle of the city, "Noma 2.0" has found its new home in the Sømindedepotet, a former military building of the Royal Danish Navy. Once again, Redzepi surrounded itself with the biggest and rising stars of Danish design in an unerring and stylish manner. Architects spent a whole year remodeling the concrete hall steeped in history. Inspired by the traditional Nordic farm, other buildings were added, as well as three large greenhouses as the vegetables and herbs for the elaborate menus come from the company's own gardens.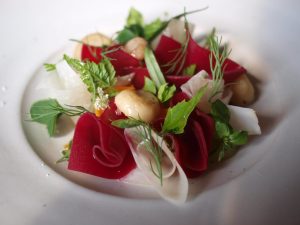 Especially between early summer and early autumn, their own vegetables are on the menu. The vegetarian summer menu is part of the new three-season concept with which the Noma team divides the calendar into three culinary seasons. Winter is all about the sea, with Scandinavian fish and shellfish at their best. In the autumn game and forest season, everything revolves around meat, mushrooms, berries and nuts. Whatever the season, the restaurant is a great experience for people who enjoy fine dining.
One thing is omnipresent when you visit Noma – the striving to always invent something new. This maxim in combination with the relaxed hospitality will surely bring the Noma full tables for many years to come.
Awards the Restaurant received:
2007: 15th place: Best Restaurant in the World
2008: 10th place: Best restaurant in the world
2008: TripAdvisor users rated Noma the best restaurant in the world
2008: René Redzepi awarded International Chef of the Year at the Lo Mejor de la Gastronomia conference in San Sebastian, Spain
2008-2020: Two stars in the Michelin Guide
2009: 3rd place: Best Restaurant in the World and Chefs' Choice
2010: 1st place: Best Restaurant in the World, 2010 Restaurant Magazine Top 50
2011: 1st place: Best Restaurant in the World, 2011 Restaurant magazine Top 50
2012: 1st place: Best Restaurant in the World, 2012 Restaurant magazine Top 50
2013: 2nd place: Best Restaurant in the World, 2013 Restaurant magazine Top 50
2014: 1st place: Best Restaurant in the World, 2014 Restaurant magazine Top 50
2021: Three stars in the Michelin Guide2021: 1st place: Best Restaurant in the World, 2021, The World's 50 Best Restaurants