Atomix in New York was named one of the best restaurants of 2021 (ranked 43rd), its tasting menu showcases contemporary Korean ingenuity. Each dish comes with a flashcard detailing the ingredients and — without being pedantic — its philosophical foundations.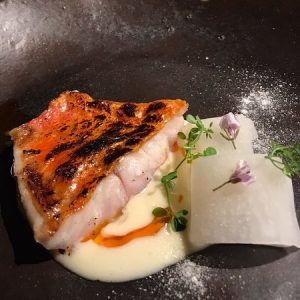 Chef Junghyun Park changes the menu every quarter. When visiting, look for variations on exquisite crawfish, uni, wagyu beef, duck breast and deeply flavored fermented sauces and pastes.
Located on two floors of a Murray Hill townhouse, the restaurant reserves its lowest level for 14 prepaid seated counters while the upper level is a walk-in bar serving cocktails and elevated snacks.
Traditional dishes are brilliantly reinterpreted with an elegant and contemporary take on Korean cuisine. Chef Junghyun Park and his wife Ellia's attention to detail in this luxurious city dining room is astounding.
Dinner at Atomix is ​​an intimate experience at a U-shaped table that faces directly into the kitchen, where chef Junghyun presents a tasting menu "inspired by Korean traditions and techniques." The meal consists of a multi-course tasting menu with seafood clearly playing the leading role. These include burdock root soup, spicy fish cakes, grilled baby corn and plum blossoms. At the bar there are drinks that are pimped with flavors from Korea.
Expect to pay $270 if you can snag a reservation. Alternatively, check out Atoboy, his first Korean-inspired restaurant at a lower price.