Restaurant Odette represents the love and passion of owner and chef, Julien Royer. It is an ode to his grandmother and as a fine dining restaurant is excellent in every way. Every detail is perfectly coordinated to complement Julien's approach.
After receiving 3 Michelin stars Roye said: "To be awarded three stars in the 2019 Michelin Guide is beyond incredible. We opened in 2015 and for us⁠ to achieve three Michelin stars when we're barely four years old – we're truly humbled. This accolade is of⁠ course a celebration of the people behind Odette and deeply appreciated as affirmation of our hard work."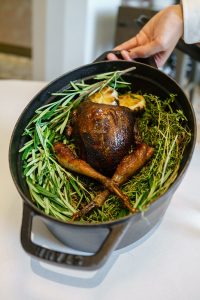 Located in the National Gallery Singapore, this restaurant is famous for its culinary artworks. The elegant dining room is accented with soft tones and subtle lighting effects. The highlight of this modern restaurant are the seasonal ingredients from all over the world. Each dish is a work of culinary perfection and you can watch the chefs put together the dish through the windows of the kitchen. To get a reservation at this two-Michelin-star restaurant, you have to book a table a month in advance though.
Odette's cuisine is considered French, largely due to their French-born chef Julien Royer's exquisite, refined dishes.  He buys products from home, but also from Japan and elsewhere in South and East Asia. The preparation of the ingredients from many places in the world however, takes place in Singapore. Dishes include Marukyo uni with shrimp tartare, clam cloud and crystal caviar, Kampot peppered pigeon with confit shank, liver parfait and black garlic, rosemary smoked egg with smoked potato siphon and chorizo and many more specials.
The restaurant's numerous awards include 28th place on the list of the 50 best restaurants in the world in 2018 and Les Grandes Tables du Monde 2017.