Bologna has a reputation for being a foodie's paradise. It is the capital of the Emilia-Romagna a northern Italian region on the Adriatic Sea, home to some of the most famous pasta dishes, as well as meat, cheese and wine specialities. What is produced there is used by top chefs around the world.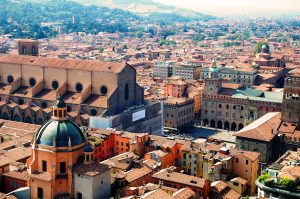 Bologna is the home of tortellini, mortadella and bolognese sauce. From the neighboring city of Modena come the famous vinegar Aceto Balsamico and their Sangiovese DOC red wine, the Romagna wine par excellence. Then there is of course the incomparable Prosciutto di Parma and the hard cheese Parmigiano Reggiano, which, like Parmesan, really rounds off many pasta dishes. While in Emilia, the western part of the northern Italian region, much meat is used in cooking, in Romagna, which borders the Adriatic Sea, there is a lot of freshly caught fish and other seafood on the plate.
Quality food plays an important role everywhere in Italy. From Sicily to the Alps, the country lures with regional delicacies and great restaurants. Bologna is considered the country's capital of indulgence. The city proudly bears the nickname "La Grassa" – "the fat one". With no less than 44 food products with the DOP (Protected Designation of Origin) or IGP (Protected Geographical Indication) seal of quality and numerous autochthonous quality wines, Emilia Romagna has earned the international nickname Food Valley. The specialties of the region are known all over the world and are very popular, not only with top chefs.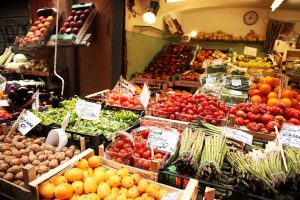 When you walk in the historic center of Bologna into to the Quadrilatero district, you immediately understand the importance of food in this city. One culinary specialty shop follows the next in the narrow streets, in the bulging shop windows whole legs of Parma ham dangle over thick loaves of Parmesan and dozens of types of sausage and cheese, fine olive oils stand on wooden shelves next to troughs with fresh pasta. The smell of bread comes from the city's oldest bakery, vendors offer wines from the region to try and fruit and vegetables gleam in all colors on wooden stalls.
The numerous wine bars and shops that offer top wines by the glass also whet the appetite for some fine wines. For example, the first of its kind, the Enoteca Italiana, where you can choose between around 1400 labels and enjoy a decent selection of wines by the glass, or the cozy "All'Osteria Bottega" also offers a comprehensive regional wine list.
There are countless restaurants and cafes in Bologna Italy. From 6 PM, many of them invite you to a so-called aperitivo. There you will be served wine and several small delicacies before dinner.
If you fancy a fine dinner in the evening in a starred restaurant, you will also find numerous places in the Emilia Romagna region that are listed in the michelin guide.